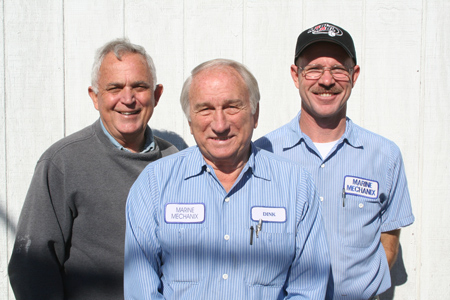 Marine Mechanix has been serving the Wilmington, Wrightsville Beach, Brunswick and Pender areas for over 27 years. We offer a wide variety of services for boaters, including engine repair, electrical repair, storage, consignment, and bottom painting.

Need the most experienced and professional service in the area?
We specialize in outboard repair, ranging from simple yearly maintenance to major repairs. Our professional services include lower unit rebuilding, power head overhauling, and hydraulic tilt and trim repair. Before you re-power you boat, you may find it more affordable to re-build your current power plant. We stock most parts for Yamaha, Mercury, Suzuki, Johnson, Evinrude, Mariner, Tohatsu, Nissan, and Force.

Need storage?
Our storage is the most affordable in the region, offering a place for your boat and trailer (under 22'), car or pick-up for only "A Buck a Day" (95 day minimum). We can also accommodate special needs and larger storage requirements.

Need easy access?
Our location is convenient to New Hanover, Brunswick, and Pender counties, with easy access to Hwy's 421, I-140, 74, 76, and 17. Getting where you need to go is easy. Headed for the southern beaches? Our place makes it easy to travel, pick-up your boat, and continue south without leaving the "beaten path."

Need to sell your gear?
You probably have extra gear cluttering your closets and taking up space in your garage - equipment that is too valuable to give away, but you don't use or need it. Let us help turn your extra equipment into dollars and cents. Our show room is the perfect spot for buyers to see your gear: set your price, and when it sells you keep 65%

Need your boat bottom painted?
Every year, saltwater enthusiasts who store their boats in the water go through the same ritual: painting the boat bottom. We offer a variety of paints from different manufacturers, and a rainbow of different colors. After 3 to 5 years of repeated painting, the old paint begins to flake off. Aqua-blasting is the choice procedure for cleaning off old paint and preparing the bottom for the new coat of paint. Call us for details and pricing.

Copyright 2008 Marine Mechanix, Inc.